AEG grid-tied solar inverters convert safely the power from your solar installation into clean energy for use with your home and business appliances. With their sleek and elegant style and a wide power range, the AEG solar inverters flexibly cover the needs of modern residential installations and grid-tied commercial systems.
A POWERFUL START TO A NEW DAY
A new day awaits, and the first rays of sunshine illuminate your solar plant. AEG inverters are ready to capture the power, transforming it into clean energy for your home appliances – from the toaster to the coffee machine, so you can start your day full of energy too.
The AEG grid-tied solar inverters provide flexible DC-AC conversion
for all planning needs, and reliable performance over time. Ranging from 700 Wp to 15 kWp, the AEG single-phase and three-phase inverters are designed to please and made to last: their robust structure is certified to the latest international standards to safely feed the produced energy to the grid over many years.
WATCH ENERGY HAPPEN
Access your AEG inverter operation and performance in real-time with its eye-pleasing monitoring portal.
SINGLE-PHASE 700 W - 3 kW
Sleek design and sheer power: for medium-size residential installations.




AEG Grid-tied solar inverters
Robust design for medium-size commercial installations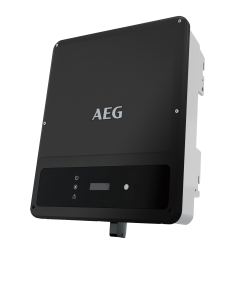 AEG Hybrid SOLAR INVERTERS
Sleek looks and quiet operations

ALWAYS THERE FOR YOU
Questions about your AEG inverter?
Find the answers on the AEG Service Page.And if you need any assistance, we are always there for you.